Adrenalin-Junkies in Queenstown NZ
Als ich neulich altes Videomaterial aus dem Jahre 2006 sichtete, entdeckte ich eine Stelle, die ich Euch nicht vorenthalten möchte. Wir waren auf unserer dreimonatigen Reise durch Neuseeland gerade auf der Südinsel unterwegs und besuchten Queenstown. Das Städtchen ist bekannt als DAS Mekka für Adrenalin-Junkies. Auch ich hatte mir vor unserer Abreise in der Schweiz für diesen Ort etwas auf meiner 'Bucket List' notiert…
Rund eine Viertelstunde von Queenstown entfernt befindet sich in einer Schlucht des Shotover Rivers der "Canyonswing". Oberhalb des Flusses – in schwindelerregenden 109 Metern Höhe ist eine Plattform befestigt. Quer über die Schlucht sind Drahtseile gespannt. In der Mitte dieser Drahtseile sind zwei weitere Seile befestigt, welche direkt zur Plattform führen. Und am Ende dieser Seile werden – Ihr habt es schon erahnt – die Touris befestigt. Quasi als lebendiges Pendel. Klar, lass ich mir so etwas nicht entgehen!
Plattform oberhalb des Shotover Rivers
Wie man den sicheren Boden unter den Füssen verliert, kann man frei entscheiden. Die Veranstalter sind aber sehr kreativ und warten mit haufenweisen verrückten Ideen auf. Ob mit dem Rücken zum Abgrund auf einem Stuhl schaukelnd, bis man über die Kante stürzt oder sich kopfüber aufhängen lässt – der Gast hat die Qual der Wahl.
Anschliessend rast man in unglaublicher Geschwindigkeit dem Boden entgegen. Sechzig Meter unterhalb der Plattform spannen sich die Seile und man schwingt quer durch die Schlucht in einem Bogen von 200 Metern. Ein einmaliges Erlebnis mit Suchtpotential!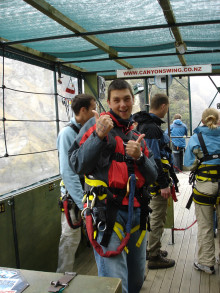 Aber seht doch am besten selbst (PS: Das Videomaterial wurde vor 9 Jahren mit einer Mini DV-Kamera gedreht. Aus diesem Grund lässt auch die Qualität etwas zu wünschen übrig):
Und hier noch das offizielle Werbevideo vom Canyonswing:
This is "2012-07-24 1 Min Vertical Promo For Website" by on Vimeo, the home for high quality videos and the people who love them.
Mehr Informationen: