Sarah Marquis läuft und läuft und läuft
Die Frau ist wie eine dieser Energizer Batterien aus der Werbung; sie läuft und läuft und läuft… Sarah Marquis, geboren 1972 im jurassischen Montsevelier, unternimmt seit zwanzig Jahren extreme Solotouren. Sie durchquerte beispielsweise die USA von Nord nach Süd von der mexikanischen bis zur kanadischen Grenze auf dem 4240 Kilometer langen Pacific Crest Trail. Oder marschierte 14'000 Kilometer rund um Australien und 7000 Kilometer über die Anden von Chile nach Machu Picchu.
National Geographic nominierte Sarah Marquis 2014 als "Adventurer of the Year"

Am 20. Juni 2010, ihrem achtunddreissigsten Geburtstag, startete Sarah Marquis zu einer weiteren gigantischen Tour. Zu Fuss geht sie alleine von Sibirien, durch die Wüste Gobi, China, Laos und Thailand, dann mit einem Frachtschiff nach Brisbane in Australien und weiter quer durch den Kontinent. Auf dem Rücken trägt sie vierunddreissig Kilo und hinter sich her zieht sie einen vierundfünfzig Kilo schweren Handwagen – eine Sonderanfertigung vollbepackt mit Ausrüstung.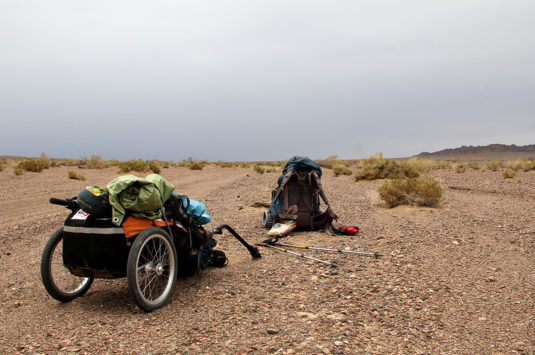 In der Wüste und Steppe hilft ihr ein Handwagen, das Material zu schleppen
Insgesamt legt die Abenteurerin in rund drei Jahren 20'000 Kilometer zurück. Sie trotzt widrigsten Umständen, kämpft gegen Schnee und Sand und setzt sich gegen Übergriffe zur Wehr. In Laos wird ihr Lager von Drogenhändlern heimgesucht. Kurze Zeit später erkrankt sie am Denguefieber und bindet ihr linkes Bein an einem Baum fest, sodass sie im Delirium nicht umherirrt und in einem Fluss ertrinkt. Nach ihrer Rückkehr wird sie 2014 von National Geographic als "Adventurer of the Year" nominiert – als eine unter weltweit zehn!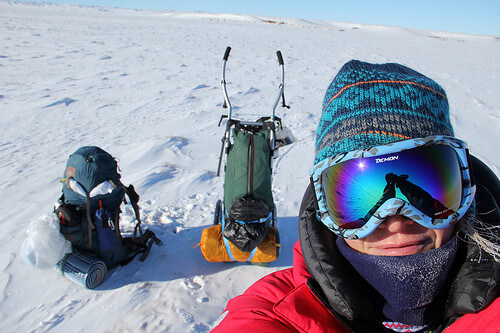 Sarah Marquis unterwegs in der Wüste Gobi
Die Geschichte tönt nicht nur spannend, sie ist es auch! Die französische Originalausgabe erschien 2014 unter dem Titel "Sauvage par Nature". Nun ist das Buch auch in deutscher Sprach erhältlich. Daher hier mein Buchtipp: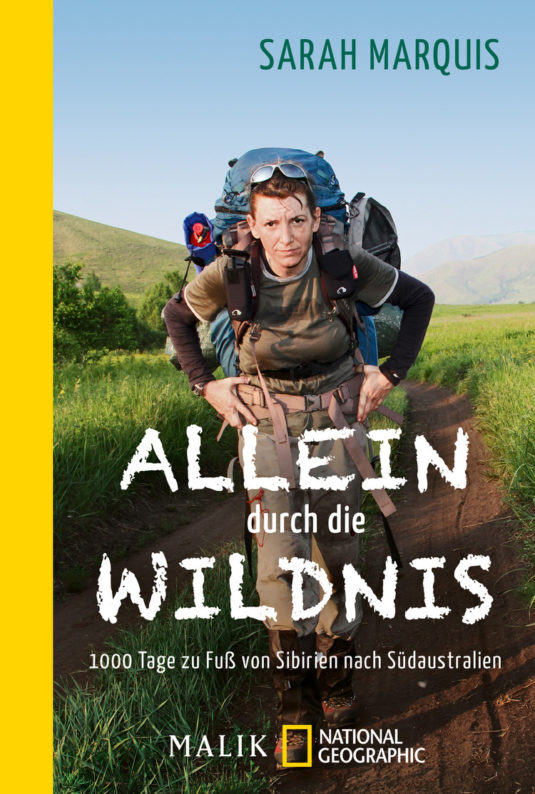 Das Buchcover von "Allein durch die Wildnis"

"Allein durch die Wildnis" von Sarah Marquis. Deutsche Erstausgabe Dezember 2015. Piper Verlag GmbH, München/Berlin 2015. ISBN 978-3-492-40589-8, Preis ab CHF 19.90.
Weiterführende Links:
Copyright Bilder: Sarah Marquis